Our staff includes some of the best picture framers in the industry. We are always excited to make new connections and bring in new pieces of art to frame.
Tom – Owner
Tom is a native to New Orleans.  After growing up here and settling down, he found his calling in the art and framing business.  Tom has a true passion for art and framing.
Tom is more passionate about the New Orleans Saints and the Boston Red Sox.  If you visit our shop, you will find that to be true.
Tom is an avid angler and gamesman, and it doesn't take much to get him away from the shop to have a good time.
Sheila – Lead Framing Artist
Sheila has over 20 years of experience framing.  If there is a problem with a piece, Sheila has a solution.  No wonder we say she can build an ark!  Sheila is our lead framing artist and has a true eye for picking out excellent framing choices for a piece of art.
Raised in New Orleans, Sheila is a true native and loves the city.  She is also passionate about raising Samoyed dogs and is a dog lover of all kinds.  When you drop in, be sure to ask her about her husbands dog sled team, she will be more than happy to enlighten you.
In her spare time, Sheila practices making stain glass windows and hand painted pottery.  Her natural artistry shines through her work at home and here at Avenue Art.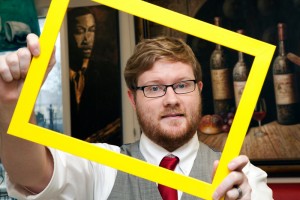 Adam – Manager
Adam grew up in Huntsville, Alabama and attended Arts schools throughout his education.  Adam moved to New Orleans in 2006 to attend the University of New Orleans where he graduated with a degree in Film.
Adam is passionate about Film, Art, Framing, and Theology and is always willing to have a conversation about those subjects.
His favorite filmmaker is Quentin Tarantino.
Adam has been Framing at Avenue Art for two years now and is passionate about his work.  He has a talent for picking out frames and mats that will make a piece of art pop.  He's also very knowledgeable about preservation and art handling.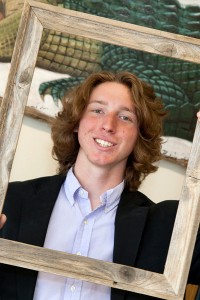 Cary – Art and Framing Consultant
Cary was raised in Mandeville and is a loyal member of Who Dat Nation. Currently, he studies International Business at the University of New Orleans, but has always been intrigued by New Orleans' art scene.
Cary believes that its the little things in life that count, and his attention detail is what makes him good at what he does.
He lives for Mardi Gras season and can often be found fishing (or at least casting a line) in City Park.
Cary has a passion for art that shines through on every piece he works with.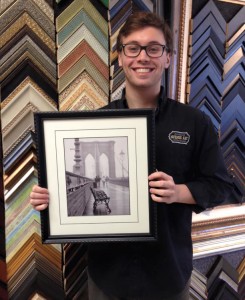 Cameron – Art and Framing Consultant
Cameron was born in California and currently studies film at the University of New Orleans. Cameron is the newest addition to the Avenue Art team, yet he is gifted in design. He's got an eye for making visuals pop (after all, it's part of his major), and a love of talking to people.
Some call him an artiste molded from the finest clays of ancient Greece; some call him a conversationalist to rival even the most daring late night talk show pundits- we just call him…Cameron.
If you wanna talk movies, framing or something whacky, he's always game.