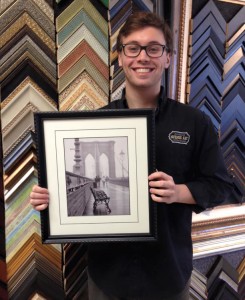 As many of you know, we recently held a month-long contest, voted on by you (our loyal customers), among our employees to see who could frame the best picture out of four options. After a truly wonderful response from friends, family and supporters on both Facebook and in the store, we are excited to announce that a winner has been chosen and his name is Cameron Dupuy.
Cameron was randomly given a black and white photograph of a park bench on the Brooklyn Bridge. Sticking with tradition but wanting to do something a little bit different, Cameron used a traditional black and white color scheme with a few notable differences.
The black frame has divots and grooves that compliment the picture's bench, while the egg-shell-white mat board, sporting a black v-groove bordering the picture, draws the viewer's eyes into the central image. The piece also sports museum glass which offers the best, crystal clear, image we here at Avenue Art and the framing world as a whole can possibly ever wish to offer.
With that being said, congrats to Cameron and congrats to the rest of the employees, Adam, Cary and Sheila for doing equally excellent work on their framing projects as well. Thanks again for participating with us and we will keep you updated about future competitions, sales and more as the months go on!