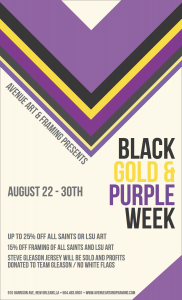 We are excited to announce that this month we will host our first ever Black, Gold and Purple Week!  The week will consist of huge savings on all of our Saints and LSU art, a special fundraising piece for the Team Gleason (helping fight ALS), and much more!   The Black, Gold and Purple Week will be August 22-30 and will be held in our art gallery at 902 Harrison Avenue (next door to Mondo).  When you decide to purchase a piece of art, you will be given the opportunity to draw a discount from a hat.  The discount will apply to your entire purchase and discounts will vary from 5-25% off your order!  How's that for a party!?
During the week, we will be selling a special Steve Gleason Jersey, framed and signed by the man himself.  Proceeds of the framed Jersey will go directly to the No White Flags campaign helping to fight those who are suffering from ALS and a search for a cure.  Learn more about Team Gleason here.
Purchase Saints or LSU art from us and you can save, Bring us Saints or LSU art for us to frame during this week and you will receive 15% off your framing order!  Another pretty sweet deal, huh? We are going all out for this week just like our Saints and Tigers go all out every week.  We will be displaying all of our best art from originals, to historic newspaper articles.  We will have collectables and unique art for anyone who proclaims to be a member of the Who Dat Nation or one who likes to call out, "Tiger Bait"! So don't forget to stop by August 22-30 for our first ever Black, Gold, and Purple Week!